AVAST Premium Antivirus now come with Bank Mode.
Bank Mode is a feature in Avast Secure Browser and Avast Antivirus that provides a virtual desktop, which acts as a clean, safe PC within your real PC. The Bank Mode virtual desktop protects you against the injection of malicious scripts, keystroke logging, and screenshot attempts by third-party apps. We recommend using Bank Mode each time you want to access a banking website or pay online.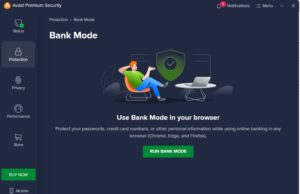 WhatsApp us if you are interested in AVAST Business Security or AVAST Home Security.