AVG Internet Security offer the best protection for all your devices in your family.
Advanced Antivirus
Thoroughly scans every corner of your computer (and any drives connected to it) in real-time for viruses, spyware, worms, Trojans, rootkits, and other nasty forms of malware. You can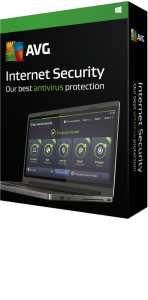 even schedule Internet Security to run whole-computer scans when you're away from your computer.
AI Detection
Uses advanced artificial intelligence on your computer to proactively identify malware samples that haven't yet been catalogued by our AVG ThreatLabs team.
Anti-Ransomware
Helps stop hackers from encrypting your private photos and files and then making you pay to unlock them.
Email Scanner & Anti-Spam
Blocks dangerous attachments and spam to protect your computer, help keep your inbox clean, and reduce your chance of falling prey to online scams.
Enhanced Firewall
Blocks hackers from accessing the private data stored on your computer. Works on both wired and wireless networks.
Link Scanner
Helps you avoid dangerous websites by scanning clicked links for threats and warning you of anything suspicious. This works for any link on the Internet, including those on Facebook® and Twitter®.
Online Shield
Scans downloaded files before they reach your computer to better protect you against hidden malware.
PUA Scanner
Scans for potentially unwanted applications (PUAs) that you may have unknowingly downloaded (e.g., adware and other malicious applications bundled with downloaded software).
Real-Time Outbreak Detection
Cloud-based technology that uses crowd intelligence to identify even the newest malware variants and outbreaks in real-time. Converts any new threat encountered by an AVG user into protection for the entire AVG community.
Software Analyzer
Like an alert watchdog, this feature works in real-time to sniff out suspicious behavior of any software running on your computer and warn you if anything is amiss. This helps protect against 0-day threats, malicious programs, and even keyloggers that secretly record typed passwords and bank account details.
WiFi Guard
Helps you avoid malicious hotspots used by hackers by warning you when you connect to an unknown WiFi network.
Privacy
Privacy is your right
Data Safe
Got something you don't want anyone else to see? Use Data Safe to encrypt and hide valuable documents, pictures, and any other files onto a password-protected virtual disk on your computer.
File Shredder
Did you know that files deleted from your Recycle Bin can still be recovered? File Shredder securely deletes data to help prevent unintended or unauthorized recovery.

The selling price of AVG Internet Security are listed in the links below. The list is for user base up to 10 users.
You can purchase the AVG License using the above links. For order made during working hours, Monday to Friday, 9:00am to 6:00pm, license key and Certificate will be emailed to you within 12 hours from the date of purchase.