If you are looking for Network Ready Dot Matrix Printer, consider Epson LQ590iiN.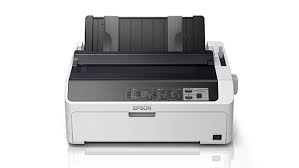 The Epson LQ-590IIN comes with built-in network connectivity and is designed to offer busy offices extraordinary speed, output quality and reliability. Based on Epson's experience in delivering industry-standard solutions, this printer helps you run and grow your business and stay in control of your operations. Easily manage and print seven-part forms* and reports at print speeds of up to 487 characters per seconds (cps) to deliver fast results and speedy transactions. Moreover, with a high character yield of up to 5 million characters, you can do more with less.
The Network Features will allow multiple PC to connect to the printer and the high speed printing will be able to cope with the printing demand from multiple PC.
Contact us via Whatsapp 60182374289 or view the information here >>